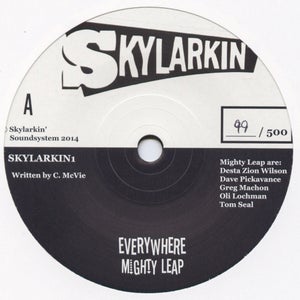 £

4.50
Format: Vinyl 7" single
Number of discs: 1
Release date: 1st August 2014
Skylarkin' Soundsystem's first ever release comes from a band who have been gracing our clubnights and concerts in Oxford, London and beyond since they were teenagers - led by the mesmerising vocals of Desta Zion Wilson, Mighty Leap have recorded the soundtrack of summer 2014.
Over the years the band have shared stages with reggae greats such as The Wailers, Dawn Penn, The Upsetters, Susan Cadogan and Mad Professor, earning plaudits from the Prof himself, not to mention Bob Marley's right-hand man Aston 'Family Man' Barrett.
With Mighty Leap busy recording their debut LP of original material, it seemed appropriate to put out this live favourite, a cover of the Fleetwood Mac classic, via Skylarkin' Soundsystem, the clubnight (and now label) that has supported them since day one.