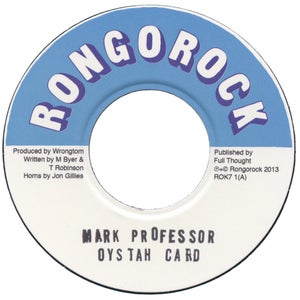 £

4.50
BACK IN STOCK!
A limited number of Oystah Cards have been unleashed once again, grab yours now before they run out.
Format: Vinyl 7" single
Number of discs: 1
Release date: 26 August 2013
The debut single from MC Mark Professor takes us on a bumpy ride across London from zones 1 to 4 in this paean to the capitol's handy Oystah Card.
"As a card carrying member and a bass-line defender I can highly recommend Mark Professor's Oystah Card....Top Up!" Don Letts (BBC 6music)
"An original, unique flavour." David Rodigan (BBC 1Xtra)
"Sweet Smiley Culture style celebration of modern mobility." John Kennedy (Xfm)